Steve Ahrens
Executive Director
Steve Ahrens is the Executive Director of The Views at Lake Havasu. Steve is responsible for the day-to-day operations of The Views as well as increasing occupancy. Since taking the helm at The Views, a consistent 25% increase in occupancy has occurred. Resident satisfaction has greatly improved as well. The key has been developing good leaders and staff, while demanding high quality service and high standards of conduct.
Prior to taking the helm of The Views at Lake Havasu, Steve was Vice President of Mortgage Lending with Summerlin Financial. Steve also taught at Lake Havasu High School. Steve retired after 28 years of service with the California Highway Patrol and is a U.S. Army veteran. Steve earned an Associate of Arts from Chaffey College and a Bachelor of Arts (Magna Cum Laude) from Ottawa University. Steve is a runner and CrossFit instructor. Steve enjoys reading, boating, and traveling in his off time.
Jojo Perkins
Leasing Coordinator
Johnna "Jojo" Perkins grew up in the Mohave Valley and is an original River Rat. Fast boat rides, her husband and dog, and learning anything new keep her life anything but simple. Before becoming the dynamic leasing coordinator here at The Views, she wore many hats including a military policeman, sheriff's deputy, personal trainer, finance executive assistant, and criminal background researcher to mention a few. Her motto is "There is a solution for everything."
Leslie McElroy
Business Office Manager
Leslie is the Business Office Manager for The Views. She started her position here in October of 2022, handling tenant billing and payroll for the company. She truly enjoys getting to know the residents and loves the family environment. Prior to coming on board, she was an accountant here in Lake Havasu and has been in the accounting and tax field her entire career. Born and raised in San Diego, she has lived in Florida and Lake Havasu since leaving California and appreciates being close to the water.
Russ Eaves
Maintenance Director
Russ Eaves is the Maintenance director at The Views. He has over 20 years of experience in the maintenance and mechanics' field. In the Midwest Russ was the Maintenance director of a 420-unit complex with two swimming pools, a fitness center, and 6.2 miles of sidewalk to maintain. Prior to getting into the maintenance industry Russ was a certified G.M. Master technician at Pontiac, then went on to build custom motorcycles.
Erica Holcombe
Administrative Assistant
Erica Holcombe is the Administrative Assistant at The Views; she grew up in California and moved to Arizona about 5 years ago. Growing up she enjoyed riding dirt bikes, camping with her family, playing soccer and beach volleyball. She has her associate degree in business and entrepreneurship, and in her spare time she likes to go kayaking and tasting different kinds of food.
Kelly Eaves
Lead Housekeeper
Kelly Eaves is the Lead housekeeper at The Views. She has enjoyed being around and helping people her entire life. Kelly ran her own cleaning company in Minnesota for 6 years before moving to Lake Havasu. Prior to housekeeping Kelly was a certified occupational therapist assistant for over 4 years.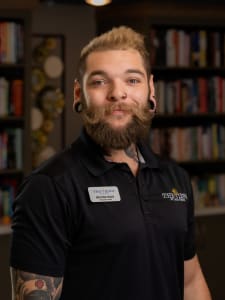 Jacob "Moose" Rios
Executive Chef
Jacob "Moose" Rios is the Executive Chef at the Riviera Restaurant inside of The Views. He started working for the company back in the summer of 2020. He was hired as the Sous Chef and has quickly risen to Head Chef since then. Prior to joining the team at The Views, Moose has worked at several local restaurants in different capacities. Cooking has been his passion for a long time. Moose loves creating new, tasty creations for residents and guests alike.
Sophia Vanderjagt
Activities Director
Sophia Vanderjagt is the Activities Director at The Views. She has an associate degree in business, with interests in Data Entry. Her favorite hobbies include crocheting, sewing, painting, embroidery, bead art, and many more activities, all in which she has used/brought into her department. The activities department has been coming up with new ideas and is always welcoming new suggestions to elevate the residents' experience.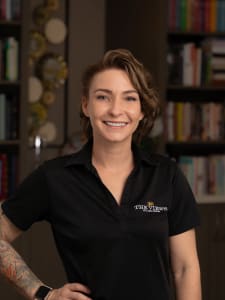 Danae Gericke
Special Events Coordinator
The Special Events Coordinator, Danae Gericke, has been with the company for over a year. She started as a server, but her experience and innovations led to her rapid rise to her current position. Prior to joining the team, Danae had several restaurant positions. She also owned her own bakery and restaurant. Danae loves ensuring her customers receive excellent service with a smile, and always looking for ways to improve. Danae is married with three children. She enjoys spending time paddle boarding and spending time with her family.
Alicia Van Lith
Dining Room Manager
Alicia Van Lith is the Dining Room Manager of the Riviera Restaurant here at the Views. She started out as a server in the restaurant in January of 2022 and has since earned her way up to Lead Server and now Dining Room Manager. She has recently earned her bachelor's degree in communications from Arizona State University. Her goal for the Dining Room is to ensure customer satisfaction and to put her degree to good use; figuring out ways to draw in more customers and to properly promote the restaurant. She has a black cat named Gohan whom she loves and she has also recently gotten engaged to her partner of 5 years and could not be happier.
Get Social With Us
Learn More About Life at The Views